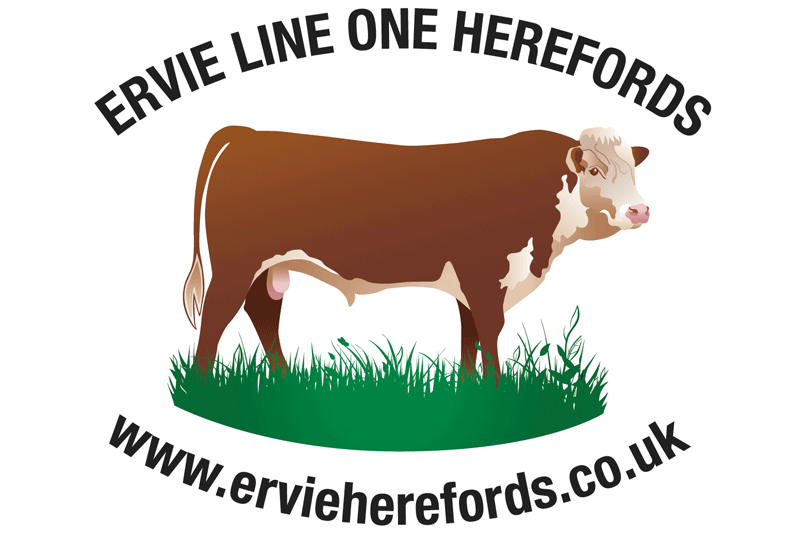 Next on-farm Female Production Sale
Saturday 9th December.

Plan to attend the December "Ervie Jingle Bell" sale

Special production sale of up to 25 pedigree Hereford in-calf junior stock cows
Selection of 5 & 6-year-old cows, in their prime & their natural winter glory.
Confirmed in-calf to our exciting straight Line One Hereford stock sires.
Full details on our website here soon and in the farming press.
Why not get your Christmas off to a great start with a top class Ervie female?

There will never be a better opportunity!!!

Cows penned for inspection at 10am.
Auctioneer is Harry Begg, C & D Auction Marts Ltd. Tel. 0771 356 9593
Join us for turkey lunch at noon. Auction starts at 1:00pm.
Click here for details of local accommodation.
Thank you to the buyers of our recently advertised stock. We appreciate your custom and wish you good luck with you purchases.
➢
7 young Hereford bulls sold to repeat buyer Ed Dale, Dale Farming Ltd., Cheshire.
➢
30 bulling heifers to repeat buyers Welburn Herefords, North Yorkshire.
➢
7 in-calf cows also to Welburn Herefords, North Yorkshire.
Contact

John Douglas on 01776 854226
Email

johndouglas@agriplus.net
Think Ervie Line One's
Keep cows to work for you, not the other way round!
SMART THINKING STARTS HERE.
*****************************************
Naturally reared heifers like these................

....................grow into high performance cows like this.

We offer the following:

NATURALLY DEVELOPED BULLS- the very best from our 165 Cow Herd.

PEDIGREE HEREFORD REPLACEMENT FEMALES- bred for sound feet and legs, good milkers, good udder and teat placement, easy-doing, docile and problem free.

COMMERCIAL 'BLACK BALDIE' HEIFERS by top maternal A.A. sires.

EBV's ON ALL OUR CATTLE.

STRONG PROVEN HEREFORD GENETICS.

SCANNED AND WEIGHT RECORDED. FARM ASSURED.

REALISTIC PRICES, SELLING SINGLES OR BATCHES ON FARM .

Ervie Herefords are one of the leading UK Hereford Cattle Breeders.

Selling all classes of Hereford cattle including pedigree Hereford bulls and females
together with commercial Herefords.