Ervie L1 Herefords Summer 2016 Heifer Sale.
Good demand for Ervie Hereford heifers.
22 maiden Pedigree Hereford heifers sold to Average £2502.57
A recent sale of yearling pedigree Hereford heifers from their Ervie Herd at Mains of Airies, Stranraer resulted in 22 heifers from a potential choice of 50 on offer finding new homes.
The sale was held quite impromptu by the Douglas family after numerous enquiries for females throughout the spring via their herd's website. John explained that they were at the point of arranging a date for their annual muscle and fatness ultrasound scan for all their yearlings when they decided to simply hold them in the coral overnight and offer the top 50 heifers from a group of 84 for sale by private treaty the following day.
The sale was advertised for the following week and sheets with individual data including asking price and EBV's were hastily printed. The day duly arrived and the sale kicked off at 11 am with potential buyers able to sift through the large group of heifers and draw any favoured heifers into a side pen for closer examination and comparison. Sales were made on a first come/first served basis by private negotiation with John and there were heifers priced to suit everyone with sales from £1000 to £5000.

(Selections made from fifty heifers on offer.)
Quick off his mark was recent convert to the Hereford breed, Peter Douglas from the Scottish Borders. His selections were Ervie Ruth 151901 and Ervie Peach 151984 paying the good average of £2900 each.
Michael Palmer selected Ervie Tsuga 151883 and Ervie Trudy 151994 to add to his recently established Hereford herd in Cumbria. They averaged £2500 each with the additional purchase of the proven junior herd sire, Ervie L1 Achiever 131735 at £2500.
The Mitchell brothers from Ayrshire proved tough, prudent negotiators, striking a bargain for 3 junior heifers from the Pansy, Crocus and Satina families at £1000 each to establish their new herd near Sorn.
Des Kelly from Northern Ireland made his raid on the group of heifers late in the day but succeeded in buying many top heifers amongst the 15 he purchased including Ervie Oystergirl 151906 and Ervie Cornelia 151907 at £5000 each. Des has previously purchased many Ervie females, but is keen to obtain the fresh Line One genetics used in recent years in the Ervie herd.
(Des Kelly's selections heading back to the field.)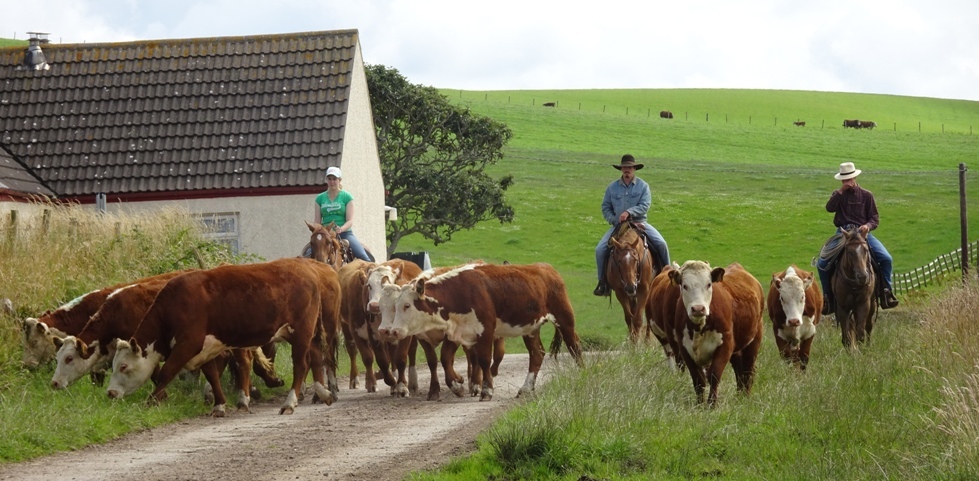 Reflecting on the sale, John Douglas says he sees no reason why they won't hold this sort of sale each summer to allow both established breeders and Hereford newcomer's access to their highly consistent maternal Line One genetics. "As with our bull sale in February, we present the cattle in their true state, straight from the field. We are proud of our female herd and we have confidence our young heifers will grow on and please their new owners with long and productive lives."
*******************************************************************************************
Ervie Herefords Spring Bull Sale Thursday 18th February 2016.
C & D Auction Marts Limited conducted the sale. Harry Begg auctioneer.
32 naturally reared and outwintered Hereford bulls, all sired by imported Line One Hereford bulls,
sold from a high of £7200 to a low of £1800 and averaged £2674.19 (Up £288.13 on the year.)
High seller was Ervie Advance 141836, going to work in the Redstroke herds of Herefords and Limousins
owned by Iain and Jennifer Wilkinson from near Perth.
The sire of this high performance individual is Ervie L1 Achiever 91151H.
Second top price of £4800 was for Ervie Advance 141781 sired by Ervie L1 Achiever 81035C.
He sold to regular buyer Robert Parker, Drumdow along with Ervie Advance 141851 at £3500 for Black Baldie production.
Matching the £3500 price was Ervie Advance 141799, again sired by Ervie L1 Achiever 91151H,
he went to repeat buyers, R & M Reid, Caddell Farm, Saltcoats, Ayrshire.
Volume buyer for their large dairy herd was Glenapp Estate, Ayrshire taking six bulls.
The sale drew bidders and buyers from across the country with quite a few new customers mingled amongst the many repeat bull buyers. Bulls are heading for Orkney, Skye, Aberdeen, Perthshire, Scottish Borders and Yorkshire as well as many spread throughout Dumfries and Galloway.
Commenting on the sale afterwards, Ervie herd owner John Douglas said. "We are well aware of the current dire financial restraints affecting everyone in farming this year, but this was the largest crowd we have drawn to our sale to date. Although definitely sticking to a budget, there was an air of determination, and buyers were paying attention to the performance and calving-ease data provided and buying bulls specifically to suit their breeding requirements. It was great having so many top cattlemen from both beef and dairy backgrounds, comparing and exchanging views and searching for useful genetics to use on a host of different breeds and crosses. Every bull was on the market at £1800 and I take this sale as a definite vote of confidence on the breeding consistency of our Line One Hereford genetics."
| | | |
| --- | --- | --- |
| | | |
| Ervie Advance 141836 | Ervie Advance 141781 | Ervie Adance 141851 |
| | | |
| Ervie Advance 141799 | Ervie Advance 141765 | Ervie Advance 141801 |
*******************************************************************************************
Ervie Herefords Spring Bull Sale 2015.
40 Hereford bulls grossed £94,100.00 to average £2352.50 (up £31.25 on the year)
2 Aberdeen Angus bulls sold at £1900.00 and £1650.00 to average £1775.00
Moving the sale date from early May to Thursday 12th February certainly did not deter buyers at the Ervie Herefords Spring Bull Sale held annually at Mains of Airies farm near Stranraer. With purchased bulls able to remain at Airies until the end of April and deferred payment until then, many buyers readily took up this option.
This is the 6th consecutive year that the Douglas family have held their on-farm sale, offering unpampered, fertile, sound bulls, straight from the kale field and sold in their working clothes. The bulls promote the consistent easy-fleshing and high maternal Line One Hereford genetics used in the large Ervie herd. Reputation of the bulls continues to grow and 13 of the 20 buyers at the end of the day were regular repeat customers.
After a "mince & tatties" lunch, the sale kicked off at 1p.m. with groups of 3, 4 or 5 bulls sold together and targeted towards large modern dairy units running sweeper bulls after their AI programme. Many of these groups were light birth weight bulls with most buyers prioritising calving ease as part of their purchasing criteria.
The single bulls following the groups continued on a sound commercial trade with auctioneer Harry Begg from Dumfries Mart finding ready bidders easily as the dairy units sought to fill their requirements. Midway through the sale offering came the bulls with high-end performance data. First of these was Ervie Advance 131696. Sired by Achiever 91151H and from the Barbara family, he boasted the highest actual adjusted 400day weight and a balanced set of EBV's and looked well worth the money selling at £2600 to I Skea, Inverurie for his pedigree Hereford herd.
Creating a flurry of bidding was Ervie Advance 131688. Also sired by Achiever 91151H and from the important cow Ervie Oystergirl V299. This bull entered the ring with equal top Teminal and Self Replacing indexes of +33 and +41 respectively, and sold at £4000 to repeat buyer, Marcus Maxwell, New Galloway, to work as a sire of Black Baldies on his Angus based cows.
Very next bull in the ring was favourite of many, Ervie Advance 121588. Sired by Achiever 91149H and from the Beauty family, he shared top rating on +33 and +41 for Terminal and Self Replacing Indexes. He quickly reached £4500 in the bidding and sold to John Hamilton, Dunbar to be used as "Black Baldie maker" for his Angus based suckler herd.
As well as strong support from local Dumfries & Galloway farmers, bulls were sold to Yorkshire, Ayrshire, Aberdeenshire, Scottish Borders, Perthshire, Lothian and Northern Ireland.
Volume buyers at the sale were Dourie Farming Ltd. taking 13 bulls, Glenapp Estate taking 6 and new customer, Lundie Farming Ltd bought 3 for their new dairy enterprise near Dundee. Twenty-seven of the 42 bulls sold went for use in dairy herds with the remaining 15 going to beef suckler herds.
Afterwards, John Douglas commented that he was thankful for the kind weather and grateful to everyone who had travelled from near and far to attend the sale. Comments on the standard of the bulls had been very favourable with both the auctioneer and many buyers saying it was the best set of bulls produced to date. "Next year we aim to have 60 plus bulls."
*************************************************************************
Ervie Spring Bull Sale Report 2014.
40 Hereford Bulls grossed £92,850.00 and averaged £2321.25
ERVIE ADVANCE 121493
Sold to Messrs Bainbridge
of Northumberland
Topping the Spring Bull Sale
at £4500

Saturday 3rd May saw a crowd in excess of seventy people attend the Ervie Spring Bull sale held by the Douglas family at Mains of Airies, near Stranraer, in southwest Scotland. The annual on-farm sale has now reached its fifth consecutive year, having begun in 2010 as a means to promote the easy-fleshing and high maternal Line One breeding behind the bulls, but also offering commercial bull customers a source of naturally reared, unforced bulls, in good working condition.

This year saw an increase in the number of bulls offered with forty going under the hammer of auctioneer Harry Begg from Cumberland and Dumfriesshire Farmers Mart. Trade was buoyant, with all forty bulls offered finding ready buyers and ranged from a high of £4,500 to a low of £1,600. Although local Wigtownshire farmers were out in force, bulls were also dispersed to Argyll in the west, Dundee to the east and Northumberland, Yorkshire and Cumbria to the south.

Topping the trade at £4,500 was Ervie Advance 121493. Sired by the imported bull Achiever 91151H and out of Ervie Oystergirl E992, he also boasted both the top Terminal Index of 34 and the top Maternal Index of 42. Buying him to take home to Northumberland was repeat buyer and Black Baldie producer Simon Bainbridge, a former beef monitor farmer for northeast England.

Second bull in the ring was Advance 121503 reaching the joint second top price of £4000. This one was the favourite of many on the day and sold to established local Black Baldie producer Robert Parker to add to his strong battery of Ervie Hereford sires. Sired by Achiever 91149H and from the young cow, Ervie Carol Lily F1113, he boasted a well-balanced set of EBV's with a Terminal Index of 25 and a Maternal Index of 32.

Matching the £4000 price tag and selling to David and Maggie Kelly from Cumbria, was Advance 121462. This light birth-weight bull was also sired by Achiever 91151H and out of Ervie Dowager F1030. He sold with a Terminal Index of 26 and Maternal Index of 33 and goes for use on heifers from the Kelly's famous Limousin herd, but may later be used on some of their pedigree Hereford females. As recent newcomers to the Hereford breed, the Kelly's were impressed by the Line One females at Ervie and have purchased 46 pedigree Hereford females and an imported Line One stock sire from the Ervie herd over the past year in order to buy into the Line One genetics.

Volume buyer at the sale was Rory Christie for Dourie Farming Co. near Newton Stewart, buying nineteen bulls. New customer Charlie Russell for Glenapp Estate, South Ayrshire, bought eight.

At the end of the day, twenty-nine of the bulls on offer were sold to dairy producers whilst the remaining eleven bulls were sold for use in beef suckler herds. In general, the beef suckler producers who purchased, were interested in those bulls showing high yearling growth and good maternal trait EBV's, whilst calving ease and docility was definitely high on the agenda of most of the dairy producers.
*************************************************************************
Ervie Spring Bull Sale Report 2013.
15 Bulls to £4600 averaged £2833
The fourth Ervie Spring Bull Sale held by the Douglas family at Mains of Airies near Stranraer last Saturday saw fifteen bulls with strong imported Line One influence scattered well across the UK. Buyers were from Argyll, Ayrshire, Cheshire, Northumberland, Northern Ireland and locally Wigtownshire.
Top price of the day was £4600 for Ervie L1 Achiever 111394 selling to pedigree and commercial producer, Robert Armstrong, East Fourstones, Hexham. This was a high maternal, straight Line One Hereford bull with both sire and dam imported from the USA.
Another top prospect with good figures and high maternal, Ervie Advance 111395 was next in the ring, selling at £4300 and was the choice of Black Baldie breeder, Robert Parker, Drumdow, Stranraer.
Repeat buyer and traditional upland suckler producer, Jim McKenna from Gass Farm, near Newton Stewart went to £4000 for Ervie Advance 111334. This heavyweight bull with light birth weight and a balanced set of EBV's was also high in all maternal traits.
Commenting after the sale, herd owner John Douglas was philosophical about the bull trade.
"Although both our average and top price has dropped slightly on the year, I think that this sale places our cattle completely in tune with the commercial sector of the beef industry. Demand was high and farmers knew exactly what they were looking for, but upland stock farmers have been hammered financially by the long spell of bad weather with high extra feed costs and also higher than normal stock losses. I think this tempered the trade but we'll reap our reward another day."
With the bulls outwintered and presented very naturally, potential buyers are provided with a full set of EBV's plus birth weight, scrotal measurement and adjusted 200 & 400 day weights as well as some background information on the sire and dam including a rating for teats.
Whilst suckler cow breeders were after the higher performance bulls with high maternal background it was obvious that the dairy farmers present were looking for a more compact bull with heavier muscling but a light birth weight, and were willing to battle for them. Gordon Service bid to £3900 for Ervie Advance 111399 for his Baltersan dairy herd near Newton Stewart.
Last word from seller John Douglas.
"I think the farmers used the data provided well. The right bulls went to the right herds. That bodes well for the future."
15 bulls sold to an average of £2,833.
*************************************************************************
Ervie Spring Bull Sale Report 2012.
12 Bulls to £6500 averaged £3333
5 Pedigree Hereford Bulling Heifers to £1600
Black Baldie Heifers to £1150
Pen of Black Baldie Steers £1100 average weight 547Kg
Local commercial beef producers attended the 3rd Ervie Spring Bull Sale in some force and made all the running to purchase the top American Line One sired Hereford bulls on offer. With auctioneer Harry Begg from Dumfries in full swing and approaching 60 people around the ringside, the days top price of £6,500 was for Advance 101219, selling to renowned Black Baldie enthusiast, Robert Parker, Kirkcolm. This growthy, easy-fleshing bull was the heaviest in the group and sported a well balanced set of EBV's and Hereford Terminal Index of 29 and Hereford Self Replacing Index of 36.
He is sired by the imported Line One sire, L1 Achiever 851A and from one of the herds top breeding cows.
Buying 2 bulls for use on his Aberdeen - Angus based commercial herd was Marcus Maxwell, New Galloway. His first at £5000 was for Advance 101229, sired by L1 Achiever 851A and with a Hereford Terminal Index of 33 and a Hereford Self Replacing Index of 42. Mr Maxwell's second choice was Advance 101215 sired by L1 Achiever 854A at £3500.
First time buyer, William Moses, Newton Stewart went to £4500 for Advance 101208 for use on Aberdeen - Angus heifers. This one was also sired by L1 Achiever 851A.
The 12 bulls sold from £6500 to £1800 and levelled at £3333 with all but one going to repeat buyers.
The small group of maiden pedigree Hereford heifers sold to £1600 for Snowdrop 101207, sired by L1 Achiever 882A. Buyers were long time Hereford enthusiasts, Ben & Elsie Welsh, Auchenleck.
Highlight of the selection of commercial cattle on offer was £1100 paid for a pen of strong Black Baldie steers weighing an average of 547kg and going to last years steer buyer, J McIntosh, Stranraer.
Black Baldie heifers sold to £1150 to another of last years buyers, Nevil Nelson, Girvan.
Other buyers driving the trade were, J Kerr, Galston, T Gormley, Kirkcolm, J McKenna, Newton Stewart,
J Dunlop, Kirkcudbright, N Armstrong, Newton Stewart, R Christie, Port William, J Richardson, Leswalt and A Johansen, Denmark.
Commenting afterwards on the sale and his use of the imported Line One Hereford genetics throughout his 165 cow herd, owner John Douglas said he was pleased with the commercial interest and that the feedback coming from recent bull customers was encouraging, with most of them remarking on the consistency of the calf crop and also the reduction in labour from using this strain of cattle selected over generations for yearling growth, efficiency and problem free cows.
*************************************************************************
Spring Bull Sale 2011
12 Bulls to £5800 averaged £3958
11 Bulling Heifers to £2100 averaged £1600
Black Baldie Bulling Heifers to £1250
Black Baldie Bullocks to £1000
Hereford X Cows with calf to £1650
Line One Hereford genetics in demand at Ervie Spring Bull Sale
Commercial beef producers turned out in force to Mains of Airies, Stranraer on Saturday 7th May for the second Ervie Herefords Spring bull Sale. On offer were the first crop of bulls with the American "Line One " influence which the Douglas family has invested heavily in over the past few years by importing embryos.

Auctioneer, Harry Begg from Cumberland & Dumfriesshire Farmers Mart commented afterwards that the demand for these naturally developed bulls with strong proven genetics in particular the Line One breeding was outstanding.

Topping the bull trade was Ervie L1 Achiever 91172G selling to the Campbell Partnership, Middlesborough for £5800. Next at £5500 was Ervie 851 Advance F1086 to Bainbridge Farms, Morpeth, followed by £5200 for Ervie L1 Achiever 91161F to Glenbarr Farms, Argyll. First bull in the ring, Ervie 882 Advance F1093 sold at £5000 to Ballylinny Livestock, Lockerbie. Two bulls hit the £4000 mark with firstly Ervie Class Act F1134 selling to Dutch buyer Giel Hermans and then Ervie L1 Achiever 91170L to G McKie & Co., Wigtown. 12 Bulls averaged £3958.

A small selection of Pedigree Hereford bulling heifers sold to £2100 for Ervie Narcissi 91159 to Irish buyer J Hewitt, Co Tyrone. £1900 was paid for Ervie Miss Advance F1111 by DP & J Griffiths, Caernarfon, South Wales. At £1800 was Ervie Chance F1077 to local buyer B Holland. £1700 was given for Ervie Topsy 91179 by M Maxwell Castle Douglas. 11 Bulling Heifers averaged £1600.

The Commercial cattle on offer with Hereford and Angus genetics also met keen interest.

Black Baldie Bulling Heifers to £1250 to Kirvennie Farming Co, Wigtown.

Black Baldie Bullocks to £1000 to J McIntosh, Stranraer.

Hereford X Cows with calf to £1650 to W & J Mair, Cumnock.

Herd owner, John Douglas suggested afterwards that the influence of the Line One Hereford genetics offered buyers maximum hybrid vigour when used in a cross breeding program and offered better consistency of type, and that selection was entirely based on profit making traits. He added that he had been attracted to the Line One cattle for their high maternal traits but had seen an immediate improvement also in the muscling and carcass quality of the progeny.

Plans are now being made to stage the 3rd Ervie Spring Bull Sale, again the first Saturday in May 2012 with 45 young bulls in the pipeline for selection.
*************************************************************************
Spring Bull Sale 2010
10 bulls averaged £1850
14 commercial cows averaged £1208
5 commercial in-calf heifers averaged £980
6 commercial maiden heifers averaged £818
Due to the strong demand by private treaty for their Hereford bulls during the months of April/May in recent years, for 2010 the Douglas family decided to host an on-farm auction offering their customers 10 of their top young bulls. Saturday 1st May was the date chosen. Food and refreshments were on offer to potential customers from 9am until the auction at 11am. With a small crowd of 40+ gathered, auctioneer Harry Begg from Dumfries had no difficulty in finding bids for the bulls. Of the ten outwintered and unpampered bulls forward, six qualified as Superior sires for the new scheme introduced by the Hereford Cattle Society. All the bulls were pre-sale veterinary physically examined and semen tested.
First in the ring and making the top price of £2300 was Ervie Mark Donald E986 selling to repeat buyers, B & E Welsh, Roundshaw Herefords, Auchinleck. Hot on his heels at £2200 was Ervie Encore E971 selling to new customer J Dalrymple, Stranraer for use on Angus X heifers. Young Hereford enthusiast, Gavin Dunbar went to £2100 for Ervie Mark Donald E990 making this his third successive herd sire from Ervie. Another new customer was T Hutchison, Whithorn also bidding to £2100 for Ervie Builder E1001 for use on his dairy cows and heifers. Volume buyer at the sale was Dourie Farming Company buying 5 in total going to join 11 existing Ervie bulls used as sweepers to their AI programme in their large dairy enterprises at Port William. Final bull in the ring sold to repeat buyer J Dunlop for use in both their beef and dairy enterprises at Kirkcudbright.
Following the sale of bulls a selection of Hereford X cows calving to the Angus sire, and Hereford/Angus cross beef breeding heifers were auctioned. These sold to a top of £1500 to Gavin Millar, Jedburgh. Other buyers included J McIntosh, Stranraer; J Mair, Cumnock; W Stewart, Kirkcolm and J McMaster, Port William.
Herd boss, John Douglas intends making this Spring bull sale an annual event for them and is confident of putting together an exceptionally strong offering in 2011 with thirty of the first progeny from their American Line One imports in the pipeline.
*************************************************************************
2009 Open Day & Sale report
After a wet start to the morning the day brightened to allow the Douglas family to host their Ervie Herefords Autumn Sale & Open Day on Saturday 15th August. Those attending included commercial bull customers and fellow pedigree Hereford breeders from the length and breadth of the country including a few from Northern Ireland and the Scottish Western Isles. The Open Day began with two pens of in-calf heifers and some yearling bull on display with two classes for stockjudging. Field tours of the cows with spring and summer born calves along with the three Line One stock bulls imported from America were the main reason for many of the commercial producers attending. They were also able to tour through the 24 Line One calves born in July from the most recent shipment of embryos from the States. Barbeque lunch was served under a marquee with local accordionist Tommy Agnew providing some fine Scottish medley as background music. After lunch, Dumfries auctioneer Harry Begg put the seven pedigree heifers under the hammer. These were in-calf to imported bull Ervie L1 Achiever 851A. First heifer in the ring was Ervie Pansy D922 selling to Martin Jones, Hereford for £2300. Mr Jones also purchased Ervie D907 for £2400. Another breeder who had travelled all the way from Hereford to purchase was Nigel Hooper. He bought Lisette D905 for £2000, Barbara D910 for £2400 and Pansy D912 for £1800. Eighteen year old Ben Westby started off his pedigree Hereford herd by buying Barda D896 and Narcissi E928 for £1700 & £1350 respectfully. To round off his purchases Mr Hooper also secured twelve Hereford cross in-calf heifers by private treaty.Summing up the day host John Douglas said, "Our main thrust for the OpenDay was to bring the qualities of the American Line One cattle we have invested in to the attention of our pedigree and commercial customers. Our herd is run under a totally commercial regime and we have huge interest from our bull customers in the increased natural performance these cattle can offer them.""
Ervie Pansy D922

Ervie Pansy D907

Martin Jones, £2300

Martin Jones, £2400

Ervie Lisette D905

Ervie Barbara D910

Nigel Hooper, £2000

Nigel Hooper, £2400

Ervie Pansy D912

Ervie Barda D896

Nigel Hooper, £1800

Ben Westby, £1700

Ervie Narcissi D924

Mr T Birkett, £1800
*************************************************************************
2008 INTERNET HEIFER SALE
John and Alexandra wish to thank our bidders and buyers for supporting our 2008 Internet Heifer Sale. Your interest has been very much appreciated and we hope to be able to return some business in the future.
Good luck to our successful bidders!
Please continue viewing our web site for future events.
Ervie Peach C804

Ervie Snowdrop D828

Ervie Hazel D832

Mr Gordon Buchanan

£2000

Ervie Pansy D831

Ervie Narcissi D839

Ervie Broadway D850
*************************************************************************
Autumn 2007
Sale of Pedigree Heifers
With the outbreak of foot and mouth in southern England coming so close to the planned date of our pre-sale open day, the decision was taken (in the interest of both our potential buyers and our own bio security) to cancel. Whilst the Internet Sale was also cancelled, the heifers have been sold by private treaty following the lifting of restrictions. The sale results are shown below.

It is our intention to hold an Autumn 2008 Sale of Pedigree Heifers internet based as previous years and would like to take this opportunity to thank all our buyers and those who have shown interest in our herd for their continued support.

John and Alexandra
| | | | |
| --- | --- | --- | --- |
| | | | |
| Ervie Barda B651 | Ervie Lisette B656 | | |
| | | | |
| | | | |
| | | | |
| | | | |
| | | | |
| | | | |
| | | | |
| | | | |
| | | | |
| | | | |
*************************************************************************

John and Alexandra wish to thank all our bidders and buyers for supporting our 2006 Internet Heifer Sale. Your interest has been very much appreciated and we hope to be able to return some business in the future.
Good luck to all our successful bidders!
Please continue viewing our web site for future events.
We are pleased to publish the following quote, received recently, from a sucessful bidder in the Autumn 2006 Internet Sale.:-
"We are really pleased with our two heifers (A499 Ervie Barbara and A511 Ervie Snowdrop) especially 499. She has an excellent heifer calf . Show potential"....... Mr Adrian Ervine (N. Ireland)
Ervie Herefords Autumn Internet Heifer Sale 15/09/06

In-calf Pedigree Hereford heifers sold to a peak of £3000 (twice) at the second Autumn Internet sale held on the evening of Friday15th September. The sale was very much a success with twenty of the thirty-eight heifers on offer selling to an average of £1760.55

Bidders came from all over the UK and Eire and most came to view the cattle over the preceding 2 weeks providing them with a good idea of our total breeding programme before making a selection.

Sharing the top price of £3000 was Ervie Noreen A535. She sold in-calf to Ervie Sandman W404 and is due end October. Her buyer is Mr J Neenan from Charleville, Co. Limerick.

The other making £3000 was Ervie Pansy A556, also in-calf to Ervie Sandman W404. She sold to Mr Mike Nash, Cheshire who purchased two others at £2000 and £1500.

New breeder Tyran Roulston from Northern Ireland was the volume buyer of the sale taking four to a top of £2000.

An added feature this year was the "Buyer's Choice" of the entire group of 18 yearling bulls. The successful bidder was Mr R Westaway, Clipston Herefords, Market Harborough at £1500.
| | | | |
| --- | --- | --- | --- |
| | | | |
| W474 £2000 | A499 £1950 | A500 £1750 | A501 £1250 |
| Raymond Pogue | Adrian Irvine | Richard Bradstock | Phillip Steans |
| | | | |
| A504 £1600 | A509 £1550 | A511 £1600 | A514 £1650 |
| Gordon Buchanan | Mr K Murphy | Adrian Irvine | Mr K Murphy |
| | | | |
| A533 £1500 | A535 £3000 | A546 £1500 | A550 £2000 |
| Mike Nash | John Neenan | Andrew Mathers | Tynan Roulston |
| | | | |
| A556 £3000 | A558 £1200 | A584 £1500 | A594 £1500 |
| Mike Nash | Mr D Kelly | Tynan Roulston | Tynan Roulston |
| | | | |
| A596 £1500 | A600 £1500 | A608 £1300 | A614 £2000 |
| Andrew Mathers | Gordon Buchanan | Tynan Roulston | Mike Nash |
*************************************************************************
Ervie Herefords Autumn Internet Heifer Sale 20/10/2005
The first Internet sale of pedigree Hereford heifers staged by Ervie Herefords near Stranraer got off to a flying start with heifers peaking at over £5000. Active bidders were competing for 24 of the herd's top replacement heifers and included breeders from Cheshire, Cumbria, and Northern Ireland.
After spirited bidding in the final hours of the sale Northern Ireland breeder Mr Desmond Kelly emerged triumphant, having purchased 14 heifers for an average of £2382

His final bid of £5150 secured Ervie Peach W454 who is sired by the top rated Ervie Classic S30 and is in-calf to Barncleugh Yeovil Y9.

With well balanced Breedplan EBV's, she was also the top heifer in the sale for 400 day weight (+63) and eye muscle area (+2.6) figures.

(Click here to view pedigree details
Speaking after the sale Mr Kelly commented - "I am delighted to have secured this batch of quality heifers to strengthen our herd which was established just eighteen months ago. I had initially intended to look at two or three heifers, but having viewed John's cowherd I was particularly impressed with their quality and consistency. I am looking forward to the spring calving!!"…………

From our point of view the outcome of the auction was good and we are very grateful to those Hereford enthusiasts who had been to view the cattle and who had participated in the bidding.

This method of selling allows us to present the cattle in their natural environment and breeding condition rather than presenting them fitted for the show ring. As well as safeguarding animal health and bio security, this form of auction affords buyers the opportunity to come to the farm when it suits them, to view the entire herd, including sires and dams as well as the sale cattle, whilst still allowing competitive bidding.

Future plans include a sale of mature in-calf pedigree Hereford cows March/April 2006 and to make the Autumn heifer sale a set annual event. There are no plans to stage such a sale for bulls at the moment but these are advertised for private sale on the herd website throughout the year.
*************************************************************************